Published on:
Instagram Web Design – Best Accounts and Hashtags to Follow in 2021
Authors

Name

Twitter
Among all social media, Instagram is a photo-centric platform that provides easy-to-use features for its users. There are about 1 billion Instagrammers per month from almost any generation. People from all over the world use Instagram to entertain themselves, see the moments of their friends and family, and get to know businesses they can buy from. However, Instagram is not all about people who use Instagram for fun. There are also many business accounts that use Instagram to earn money.
One group of those who use Instagram to promote their business is web designers. One of the challenges that web design accounts may be struggling with is to find relevant content on Instagram by looking for the best Instagram web design accounts and hashtags. On the other hand, you may be a web design fan and you want to follow the best accounts and hashtags active in the niche. This article makes you familiar with the best web designing accounts and hashtags. So, just keep reading!
Table of Contents
What are the Best Instagram Web Design Accounts to Follow in 2021?
Here, we will introduce the best web design Instagram accounts you can follow in 2021. While some of the accounts are real businesses that share informative content, others are web design influencers who inspire you with web design content. So, let's see what we have on our top 7 list:
1. @dennis.design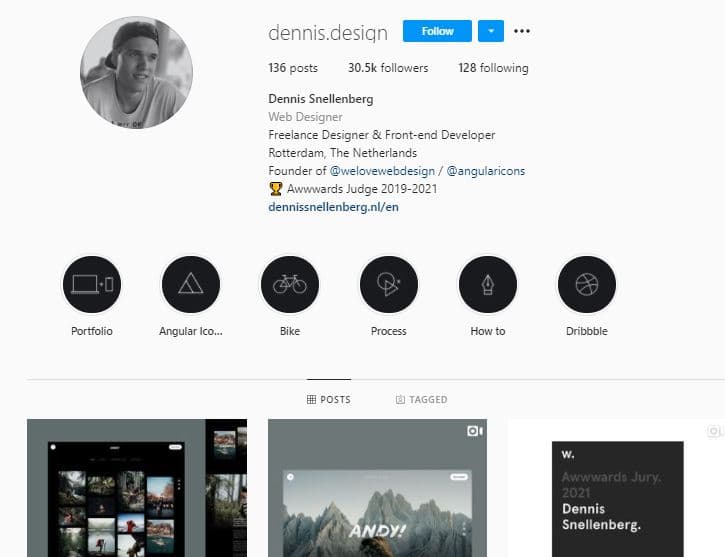 Dennis Snellenberg lives in the Netherlands and is a freelance web designer and front-end developer. Dennis shares his designing ideas on this account which are quite interesting for web design lovers. He also owns the @welovewebdesign account on Instagram that we will talk about it in the next part. He is a great source of inspiration and can show you how to be creative with web designs.
If you are a business owner that needs an expert web designer for your website, you can contact Dennis for a project. He also has a website where you can read about his background and experiences. Find the link to his website on his Instagram bio.
2. @welovewebdesign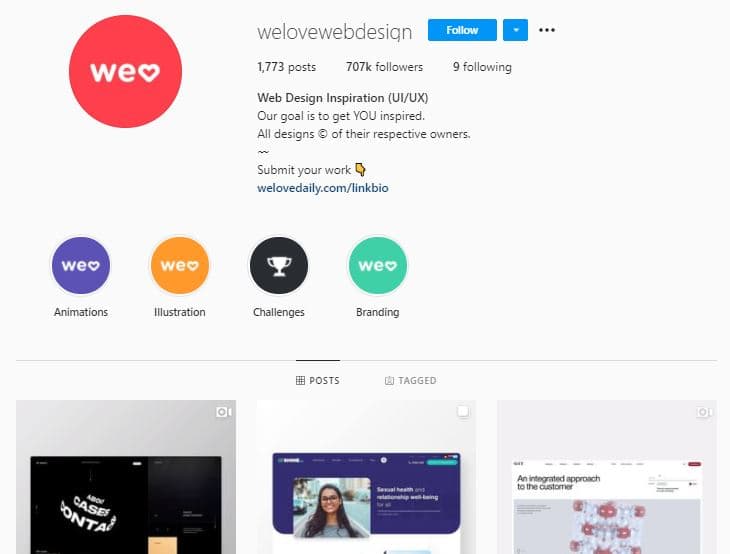 Founded by Dennis Snellenberg, this account is another best account that you should follow. This account inspires you with UI/UX designs and is the most-followed web design account on Instagram. If you follow the account, you will get the latest new releases in the world of web designs. In addition, you can get to know the best web designers from anywhere in the world and start collaborating with them. You can collaborate with them either by asking them to do a project for you or do some influencer marketing for your business.
3. @uxdesignmastery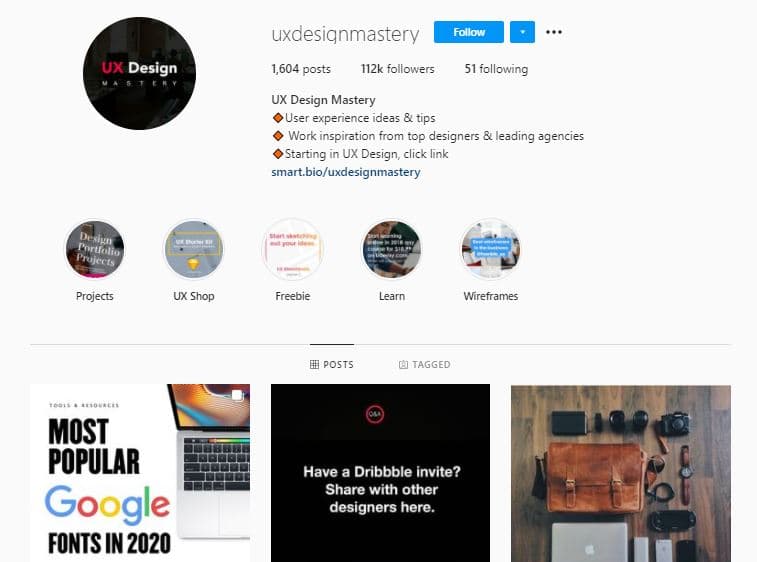 UX Design Mastery tells you about the most recent designs in the world of web design. It also teaches you the best UX design guidelines that can improve your work. Moreover, you can get to know the best UX designers for your business or just seek inspiration. Therefore, the account can give you anything you need for starting your web design career. From other designers' experiences to the tips that can help you with your career, are all there on the account. If you still want more, you can check the link in bio and get to the website of UX Design Mastery.
4. @iamnotmypixels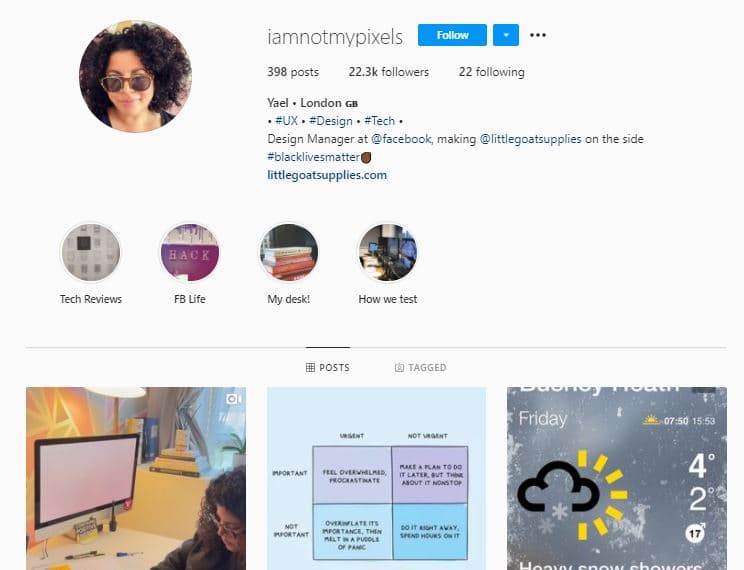 The owner of this account is Yael who is a UX designer living in London. If you follow her, you will learn many things about new ideas in the UX design world, relevant books, UX webinars, the typical life of a web designer, etc. If you are a business owner, you can offer her new projects and she will do that for you perfectly. So, her account is both good for finding inspiration and for boosting your online business.
5. @twohabitsdesign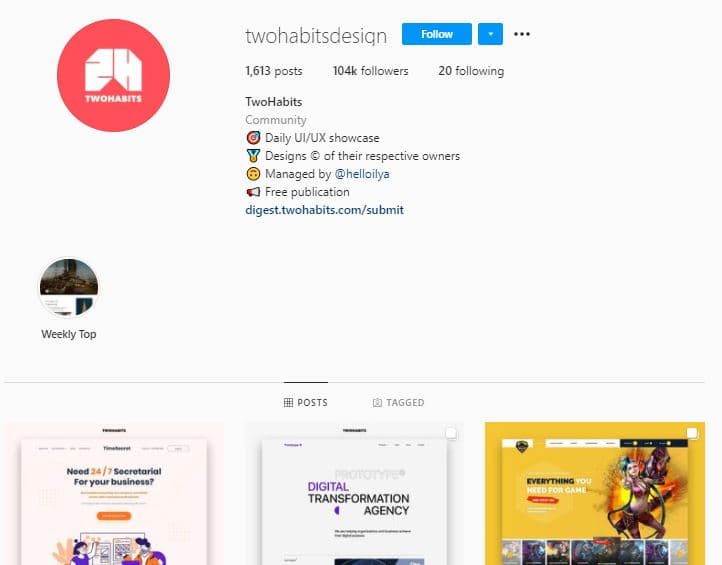 6. @gtamarashvili
Giga Tamarashvili is a UX/UI web designer and travel lover. So, unlike other web design accounts on Instagram, it is not just web design-related content to explore. He also shares his real moments and teaches you web design ideas at the same time. That is why his account is an interesting one to follow. Therefore, get ready to see his latest web designs, his travel destinations, and his personal photos.
Giga also has another Instagram account called @colours.cafe in which he shares stunning color combinations. Following this account can significantly help you to choose colors for your web designs.
7. @gifux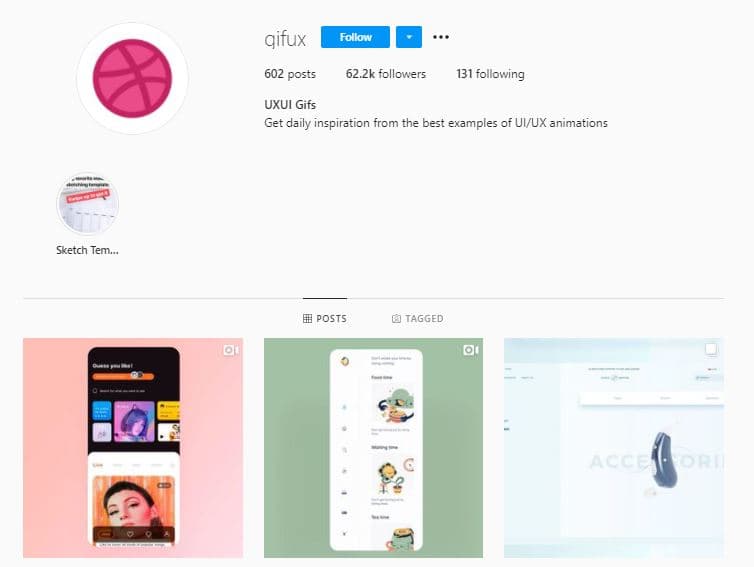 As the name of the account is a hint for the type of content you are going to see, GifUX shares UX/UI gifs designed by creative web designers. The gifs and designs on this account can motivate you to create your own gif and challenge your creativity. GifUX shares a lot of UGC or User Generated Content so you can post your gifs on your account and tag GifUX. They will share your post on their account and this is how you can promote yourself.
What are the Best Instagram Web Design Hashtags to Follow in 2021?
The importance of Instagram hashtags is known to us all. They act as keywords through which you can find accounts and content related to that particular subject. On the other hand, you can put your content on display by adding relevant hashtags to it. So, whenever someone searches for a hashtag, your content pops up and they can see your posts or stories among the results. However, as there are millions of posts for some hashtags or less than 100 posts for other hashtags, it is better to choose hashtags that are on either side of the pole. Therefore, you can get your content to be seen and interacted with.
If you are a web designer and you want to promote your ideas on Instagram, all you should do is to share your ideas and add several hashtags to it for your target audience. Reaching the right people is important if you want potential clients to avail your offers and hire your service. Here are some of the best hashtags for your niche:
#webdesign #design #graphicdesign #website #marketing #webdevelopment #branding #webdesigner #digitalmarketing #seo #web #websitedesign #webdeveloper #ui #ux #socialmedia #html #uidesign #business #socialmediamarketing #wordpress #logo #css #designer #uxdesign #creative #ecommerce #coding #javascript #bhfyp #programming #graphicdesigner #userinterface #onlinemarketing #logodesign #appdesign #developer #marketingdigital #advertising #entrepreneur #userexperience #dise #smallbusiness #photoshop #art #digital #programmer #code #designinspiration #instagram #technology #contentmarketing #graphic #php #photography #graphics #startup #websitedesigner #illustration #websitedevelopment
The tip you should know is that Instagram limitation does not allow you to add more than 10 hashtags to your stories and more than 30 hashtags to your posts. Therefore, choose the most relevant ones and wait for the results.
Conclusion
In conclusion, Instagram is a platform with so many users who want to share their moments and ideas. As a web design freelancer or business, you should follow the accounts and hashtags that are similar to your niche so that you see what the newest trends and best ideas are. Moreover, it is a good way to promote yourself and get more followers. If you like to grow your follower base, you can try a 1000 free Instagram followers trial or use Instagram growth services. This article has made you familiar with 7 accounts and 60 hashtags. So, follow them and learn how to be successful on Instagram. Wish you the best of luck!
---
Bio: I am Parichehr Parsi, a born writer, and a freelance copywriter in the fields of travel, fashion, and Instagram marketing. I currently write for Realtormate, DMpro, and online magazines in Italy and I love reading, writing, and researching. Find me on LinkedIn!